Global Convergence Management
We're Cultivating Global Leaders Leading the 4th Industrial Revolution with an Innovative and Creative Mindset in the Domain of Global Management
Nurturing management elites who value collaboration and communication and lead the era of the 4th industrial revolution with an innovative and creative mind
100% English lessons help form a global mind in an educational environment with international students
Fostering strategic new southern regional experts with IT+second foreign language+management knowledge
Global competency reinforcement through 3+1, 2+2 dual degree, and short-term language training programs with prestigious overseas universities
▣ Department Outline
The Department of Global Convergence Management educates graduates who understand global business and management through practical training courses such as international management and international relations, while also developing basic competencies to understand programming languages in preparation for the era of the 4th industrial revolution; in order to develop job competitiveness at graduation. Students also gain a variety of hard and soft skills to apply their newly acquired knowledge in all areas of global management.
To cultivate experts in the New Southern Region, which is emerging as a new growth engine for the world economy, we provide practical training courses to give students a sense of what it's like in the field; such as ASEAN business practices, international relations, and business practices curriculums developed with local mid-sized companies.
100% English for all courses → Ensuring English proficiency
Required major and liberal arts lectures in IT specialization → Understanding programming languages and securing certifications
Second Foreign Language Track (starting in 2nd year) → Strengthen international competency by learning a second foreign language (Chinese, French, or Vietnamese)
Entrepreneurship special education courses available (starting in 3rd year) → 1:1 mentoring by professors specializing in business start-ups, development of start-up ideas, and a one-year intensive program to experience a start-up from the CEO's standpoint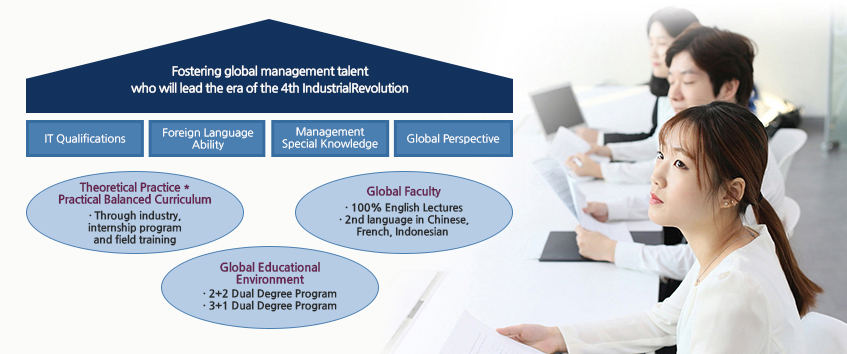 ▣ Educational goals
Cultivating 21st-century global talents who have both theory and practical skills
Cultivating Asia's best global talents with creative thinking, foreign language skills, field-specific expertise and practical skills
Supporting professional competency to perform creative and innovative work in global companies as well as understanding various cultures
▣ Career Prospects
A Bachelor in Global Convergence Management provides students with the skills and practical experience in an international environment that will set them apart when they begin their career. Graduates from Woosong University's Endicott College of International Studies can pursue careers in various companies around the world. below are a few examples of such opportunities:
Management Consultant
Project Manager
Financial Analyst
Marketing Executive
Sustainability Consultant
Human Resources Manager
Non-Government Organization
United Nations
Advanced Research
International Business
These are the pertinent classes available for students in the Global Management major.
Class List
YEAR 1
Spring
Summer
Fall
YEAR 2
Spring
Fall
YEAR 3
Spring
Fall
YEAR 4
Spring
Fall
2020 Course Descriptions Global Management
Course Name
Class Description
Leadership and Teamwork
This course provides an opportunity for students to develop an understanding of various leadership theories and to apply them to real life like team settings. Although the course content is informed by leadership theory and empirical evidence, the focus is on developing leadership skills and understanding the concept of team effectiveness in organizations.
Introduction to Management
The purpose of the course is to make the students familiarize themselves with the basic aspects of business; of which the principles are organizing a framework for solving real business problems. Students will become equipped and familiar with the guiding business principles to be gleaned from business problems at the end of the course.
Management Terminology
This course is aimed to provide students with a world of essential business terminology. Anyone wanting to communicate success fully in general business situations, including managers, sales people, account managers, and business leaders. The content will be supported by systematic work on core grammatical structures, vocabulary patterns, and pronunciation.
Introduction to Economics
This course is designed to help the students build an understanding of the economics of the market place. In particular, the course focuses on microeconomic principles that demonstrate the role and limitations of both competitive and imperfectly competitive markets in motivating socially efficient consumer, business, and public sector choices.
Introduction to Accounting
This course introduces students to financial statements and takes a practical approach to the accounting cycle. Students will learn various aspects of journal entry, general ledgers, adjusting entries, and closing entries. In addition, students will also learn how to create an income statement and balance sheet from journal entries. Students will be introduced to auditing and will learn about ethical issues in accounting.
Ethics and Corporate Social Responsibility
This course will introduce students to the basics of Corporate Social Responsibility. The first section of the course will supply students with the theoretical framework, which they will then apply in more detail to specific cases in order to deepen understanding. We will then expand to consider some specific challenges and concerns within the field of Corporate Social Responsibility. As a final project, students will examine cases of failure within Corporate Social Responsibility, identifying what caused these failures and how they might have been prevented. 
Management Statistics
Statistics is essential for all business majors and this helps students see the role statistics will play in their own careers by providing examples drawn from all functional areas of business.
Principles of Marketing
This course is designed to provide students with basic marketing concepts and practices. In this unit students will learn how customer value and customer engagement drive every good marketing strategy.
Financial Accounting
This course is a continuation of the introduction to Accounting. This course provides an in-depth study of financial accounting with a concentration on the inventories, account receivables, liabilities, and stockholder's equity accounts of the statement of financial position. Other topics include corporate organizations, share transactions, dividends, statements of cash flow, and financial statement analysis.
Project Management
Upon successful completion of this course, students will be able to:

Understand what is a project cycle and its elements,
Understand how to write the project development documents into proposal text,
Write their own proposals in accordance with high quality standards,
Understand the evaluation procedure and the implication for proposal writing.

Consumer Behavior
Upon completion of this course, students will be able to:

Understand consumer reasoning and the decision making process.
Understand and apply the main theories of consumer behavior.
Understand the effect of various psychological and social dimensions on consumer behavior.
Understand how cultural values influence the consumer decision making process. 

Human Resource Management
Human resource management (HRM, or simply HR) is a function in organizations designed to maximize employee performance in service of an employer's strategic objectives.[1] HR is primarily concerned with the management of people within organizations, focusing on policies and on systems.[2] HR departments and units in organizations typically undertake a number of activities, including employee benefit design, employee recruitment, "training and development", performance appraisal, and compensation (e.g., managing pay and benefit systems).[3] HR also concerns itself with industrial relations, that is, the balancing of organizational practices with requirements arising from collective bargaining and from governmental laws.
Time Series Analytics
This course aims to develop student's understanding and skills to deal with time-series data using graphical and statistical techniques.  The course will put an emphasis on the practical application of these research techniques and building students' skills in using relevant software to organize, structure, analyze, and present time series data. On completion of the course, students should be able to do the following: Understand features of time-series data and approaches to model such data, analyze time-series data using statistical software, distinguish between time-series data that is stationary (mean-reverting to an average value) and time-series data that is non-stationary (increasing or decreasing perpetually in time), apply the basic techniques for including lagged values of variables in time-series regression models, apply the basic tests used to identify the presence of autocorrelation in the errors/residuals of a time-series regression, understand the approaches used to deal with the presence of autocorrelation in the errors/residuals in a time-series model.
Corporate Finance
The purpose of this course is to introduce students to the fundamental concepts and techniques of finance that are commonly used in financial decision making and investment analysis. It provides an overview of the financial markets and institutions, as well as their role in economic development. It further discusses common financial concepts and analysis methods. In addition, this course offers the main methods and approaches of current assets and liabilities management.
Operations Management
The purpose of this course is to introduce students to the fundamental concepts and techniques of operations and supply chain management for both service and manufacturing organizations. It will address the role of operations in relation to other functions and the methods to increase organizational effectiveness and efficiency. Students will also learn quantitative methods used for solving operational issues in production planning and process design.
Brand Management
The course explains how brands are managed and employed as strategic assets. It covers the management of brand loyalty, brand extensions, extended product lines, and assessment of brand strength and equity. Brand development and brand life cycle strategies are also discussed. The course uses real life cases to familiarize students with the issues and challenges faced by Asian and global brands.   
Data Analytics for Management
This course aims to build students' theoretical knowledge and practical skills to understand, interpret, and communicate data relevant to business management. Students will learn to use Tableau, excel, and other relevant software - the industry standard software(s) used worldwide - to visualize and report on specific insights extracted from data sets. Course Goals and Learning Outcomes
Upon the completion of this course, students will be able to:

Do data collection, organization, and present numerical and textual data related to business management;
Understand how data-driven models can lead to smarter, more impactful decisions in a fast-paced and uncertain world;
Assess the reliability of data, extract strategic business insights, and use modelling to predict future trends;
Efficiently visualize data skills with which to clearly communicate research findings to all stakeholders;
Clearly and creatively communicate analysis results using established principles in the discipline.

Digital Marketing
Digital marketing is an umbrella term for the marketing of goods or services using digital platforms; mainly on the internet, but also including mobile phones, display advertising, and any other digital technology. In the age of digital insurgency, technology has unwrapped new opportunities for marketing. In the time of individualization, digitalization, and social networking along with the emergence of the rational consumer has posed new challenges as well as prospects for marketing. Digital marketing campaigns are becoming more widespread, as digital platforms are increasingly integrated into marketing plans, and as people use digital devices instead of going to physical shops.
What we market may be the same but how we market has changed. The way in which digital marketing has developed since the 1990's and 2000's has altered the way brands and businesses use technology and digital marketing for their marketing. The evolving discipline of digital marketing offers opportunities for innovation, profitability, affordability, measurability, and targeting. Digital marketing has not only opened opportunities for the organization, but also enormous opportunities have boomed for digital marketers, web designers, web analysts, and web developers.   
Advanced Decision Making Models
This course covers decision models for strategic decision-making. Patterns, relationships, and analytical findings are often used as input in these models which are implemented in everyday business. Students will learn techniques for decision making including decision analysis, optimization, and simulation. Examples are introduced that cover applications in strategic planning, financial management, operations, project management, and marketing. As a result of this course, students will gain:

Increased ability to recognize and critically assess various forms of social enterprise strategies as tools of economic development and social transformation;
Greater understanding of the challenges of growing and sustaining a social enterprise, as well as special insights into enterprise development and growth;
Improved consulting skills, including project planning, issue analysis, formulation of strategic and tactical recommendations, and client relationship management.

Management Information System
Upon completion of this course, students will be able to:

Demonstrate sufficient understanding of how information systems and technologies are significant for modern enterprise, its business processes, and key management functions; for example, planning & strategy, decision making, operations, knowledge management, learning, and change management
Discuss basic concepts and components of information systems with fluency; for example, information, hardware, software, telecommunications (networks), databases, information security and systems, etc.
Discuss about IT infrastructure, enterprise architecture and integration, and the latest trends in information and communications technologies affecting them
Identify and explain about key business processes and how they are served by various information systems/applications like ERPs, CRMS, SCM, KM, etc.
Successfully choose and execute information system selection, acquisition, and deployment processes (including prep/use of relevant documents)
Demonstrate awareness about the latest social and ethical issues in adoption and use of IS
Discuss emerging technologies and the latest issues surrounding information management such as Big Data Analytics, Internet of Things, Information Security, and Augmented/Virtual Reality

Social Entrepreneurship
This course aims to equip students with knowledge of social entrepreneurship and principles of creating entrepreneurial solutions to address societal problems, skills to develop creative solutions to address social problems, and empower students to see social entrepreneurship as a force for social change. The course equips students with the tools to prepare them to make an impact on the lives of others.
Strategic Management
In strategic management, people seek to understand how organizations achieve their goals and what organizations can do to improve their ability to do so. The nature of the course places an emphasis on the strategy process which includes situational assessment and analysis, strategy formulation, implementation and evaluation. In addition, it is necessary to pay attention to an always-changing international environment and its cultural, political, and legal aspects.
Global Supply Chain Management
This course provides an understanding of fundamental concepts of global supply chain management. Build an understanding of basic supply chain management concepts including:

Providing a knowledge base for conversing with those familiar with supply chain concepts.
Build both quantitative and qualitative analysis skills, especially those needed for designing supply chain systems.
Develop your ability to gain insights from popular press articles which describe company experiences with supply chain management.
Develop an understanding of the complexities associated with the designing and implementation of global supply chains.

Managerial Accounting
The objective of this course is to help students acquire knowledge and understanding of the concepts, techniques of cost and management accounting, and to develop skills for managerial decision making.
Cross Cultural Management
This course is about managing diversity in the workplace. Effective management of today's increasingly diverse workforce is among the most important global challenges faced by managers. Students will be equipped with how they can function effectively in a diverse workplace and manage the workforce.
This course will examine the nature of diversity in organizations, and implications for management in the future. The course will also explore management challenges and issues arising from diversity, existing frameworks and solutions to deal with these challenges, and emerging trends. Students will acquire fundamental conceptual knowledge required for diversity management and practical solutions.
Marketing Strategy and Research
The focus of this course is strategic marketing analysis and marketing planning. Students will learn the components and construction of a strategic marketing plan, and they will gain considerable experience in the analysis of complex marketing decisions. In addition, this course examines the major trends in marketing including the integration of marketing communications, radical changes in the selling function and sales force, customer relationship management, the impact of e-commerce, and the broadening role of marketing throughout organizations.
Special Topics in Global Management
The course will be taught as interactive lectures and class discussions. Socratic lecturing or interactive lecturing, which entails asking questions and guiding responses will essentially be the teaching method. Important strategic concepts and theories will be introduced via classroom lectures and discussions. Examples from real-life situations will be regularly given. The course will be conducted using Moodle and all students must familiarize themselves with Moodle usage. However, all submissions should be made to the teacher in hard copy form.
Strategic Analysis of a Company
This course provides an introduction to the practice of strategic thinking and business analysis in an increasingly dynamic and diverse business environment. The course covers a wide-range of competitive business scenarios and case studies to examine the strategic challenges faced by competing firms and how a recommended set of analytical framework can be practically applied in those situations. The course also develops understanding of various challenges to develop organizational strategies in a highly-competitive business ecosystem. The course offers an understanding of the analytical tools and techniques that a strategic analyst can employ to identify the critical elements of an organization's internal structure, and dynamics of its external competitive environment that enables them to predict the business's future. Besides the traditional analytical tools (e.g. market opportunity analysis, benchmarking, resource analysis, stakeholder analysis, SWOT, PESTLE, and Delphi technique etc.) the course would also cover some of the emerging analytical techniques employed by companies today.