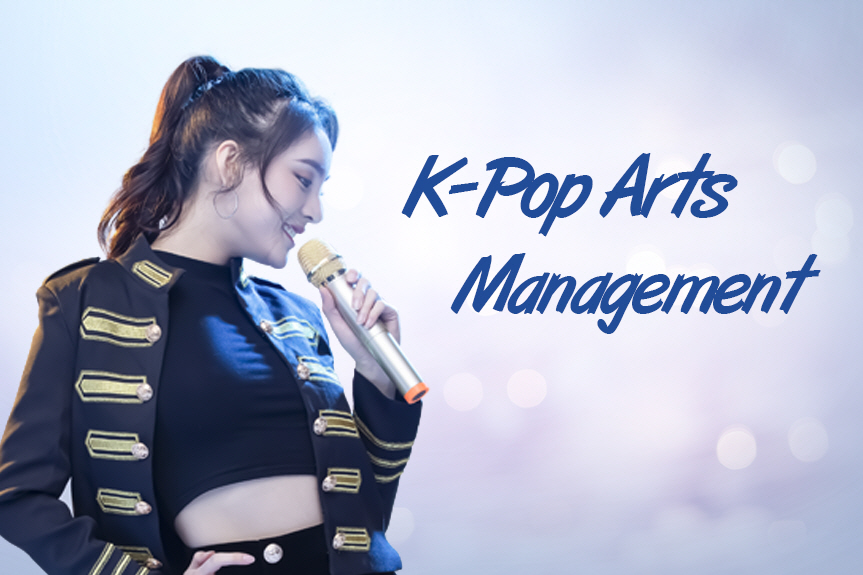 Behind the success of all K-POP artists on stage are a lot of people with different roles: potential star searching team, managing and record producing A&R, distributors, concert planners, marketers, and fan managers. What kind of skills are needed for these positions? Could you be one of them? With the growth of "Hallyu," the Korean Wave, there is a growing demand for personnel who can organize and manage music organizations, especially for those who specialize in K-Pop Arts and operations for the international market.
Our K-Pop Arts Management program gives our students an understanding of global art culture through practical learning experiences taught by professors who have a global vision of the popular arts industry. Our faculty have worked with Korean broadcast companies, like KBS and SM Entertainment, and Korean entertainment groups, like EXO and Seventeen. Our uniquely all English program prepares you with knowledge of professionally producing content for various platforms to manage in the entertainment industry. Our graduates with their specialized knowledge of the Korean Wave industry will be uniquely qualified for positions in promotion, marketing, and entertainment management/production, or look to create your own art-culture start-up.
2021 K-POP ARTS MANAGEMENT
Required Courses
Study Area
Courses
Credits
Major Required
Management School Theory
3
Computer Skills
3
Music Business Communication
3
Performance Planning
2
Presentation Skills and Strategies
2
Popular Culture Theory
3
Major Exploration
3
Music Business
3
Understanding A&R (Artists and Repertoire) ▼

Course Description
This course is to introduce students to general music production process for K-pop artists and role of A&Rs. This class will provide lectures to help students understand how A&Rs work to produce music albums for artists. Students will also perform case studies of K-pop artists to understand their musical directions and reasonings / rational behind such album production. Students will apply what they have learned throughout the semester to be used for the final project.

3
Social Media in K-Pop
3
Star Successes – Case Study
3
K-Pop Trends
3
Elective Courses
Study Area
Courses
Credits
Major Elective
Understanding K-Pop
3
Foreign Language Intensive Course 1
3
Foreign Language Intensive Course 2
3
Understanding the Entertainment Industry
3
K-Pop Marketing Strategy
2
Broadcast Content Planning
2
Music Copyright and Publishing
2
K-Pop Global Citizenship
2
Entertainment Promotion Strategies
3
Album Production Planning
3
Social Media Content Planning
3
K-Pop Practical
3
New Media Production Practice 1
3
New Media Production Practice 2
3
A&R (Artists and Repertoire) Practice
3
Entertainment Management Strategies
3
Musical Production
3
Record Production Practice
3
Fan Management
3
Internship x 4
4+
General Elective
Any General Education or Major course x 2
10
Minors
There is one minor for the K-Pop Management Department. In order to complete the minor students must take the following courses.
Study Area
Courses
Credits
Track/Minor
K-Pop Storytelling
3
Hallyu Industry Content
3
K-Pop Music Review
3
Common Track Course x 3
12
General Electives
All students are required to take 36 credits in General Education
| Study Area | Courses | Credits |
| --- | --- | --- |
| Gen Edu | General Education | 36 |
2022 K-Pop Arts Management Curriculum